100% Online Degrees from Anna Maria College
High-quality online education to give you an industry edge
Download a FREE Program Brochure
It's packed with program details, courses and more. To get yours and speak with a program manager about financial aid, complete the form below.
Note: All fields required.
TransferCredit or Experience
Drive Your Career Forward Faster
Pursuing career advancement in the fire science and public administration arenas requires commitment and ability. The fastest way to move your career forward is to get the credentials that will put you ahead of your competition. Anna Maria College offers you those credentials through our online BS in Fire Science and our Master of Public Administration degree programs.
Convenient, affordable and flexible, these programs are taught by a highly practiced faculty with years of field experience.
With Anna Maria College, you can earn an online Bachelor's in Fire Science or an online Master of Public Administration (MPA). Our 5th Year Option even allows you to upgrade three bachelor's level classes to the master's level – charged at the undergraduate rate – so that you can complete your MPA in as little as one year!
Making the decision to continue your education with an online degree from Anna Maria College is one of the best career moves you'll ever make. In addition to career advancement and higher pay, you'll enhance your critical thinking and research abilities, two vital skills that will help you succeed throughout your career.
Bachelor's degree graduates earn 67% more than high school graduates without a higher education degree or trade certification and 39% more than associate degree holders. Master's degree graduates earn 18% more than bachelor's degree holders.1
Anna Maria College in Paxton, Massachusetts, was the first school in the United States to receive Fire and Emergency Services Higher Education (FESHE) recognition.
Anna Maria College is accredited by the New England Commission on Higher Education.
Career-Directed Programs for Your Success
Created to help you establish and grow a successful career in fire science or public administration, the online programs at Anna Maria College focus on the skills you'll need to qualify for the position you want.
This program is a degree completion program requiring an associate degree or at least 60 hours of college credit, and completion of Firefighter 1 and Firefighter 2 training for admission. This degree will help prepare you for prominent fire safety and protection roles, including fire chief, fire investigator, and fire service trainer. You will earn FESHE certificates for the qualifying fire science classes that you complete. You can choose a fifth-year option that will let you earn your Master of Public Administration (MPA) degree in an additional year. Through this program, you will gain the following skills:
Comprehend, analyze and discuss a broad range of fire science concepts
Demonstrate the leadership skills expected of fire service professionals
Conduct a thorough and legally defensible fire investigation
Address the impact of fires and emergencies upon the community
Through this accelerated bachelor's-to-master's pathway, three graduate-level MPA courses will be incorporated into your online BS in Fire Science program, charged at the undergraduate rate. Upon earning your fire science degree, you'll transfer those nine credits into our online Master of Public Administration, allowing you to complete the graduate program in as little as one year.
A Master of Public Administration degree will provide you with the tools, training, and knowledge required to advance your firefighting career or assume a leadership position with state or federal emergency services providers. This program is offered in your choice of five tracks:
General Track
Criminal Justice
Emergency Management
Fire and Emergency Services
Homeland Security
A Mission of Excellence
The mission of Anna Maria College is to foster our students' intellectual involvement, career preparation, social awareness, dedication to justice and peace, religious and moral sensitivity, and to facilitate a lifestyle capable of sustaining these within balance.
Request Info
Online Flexibility to Suit Your Schedule
With the flexibility and convenience of an online program, you'll be able to better balance your studies with your work and family commitments. Each course is offered in an asynchronous, eight-week format, allowing you to complete your schoolwork on the schedule that's right for you.
Curricula Designed for the Real World
The faculty at Anna Maria College have years of experience serving on the front lines of their fields. They bring their expertise and insight to every course, giving you an opportunity to learn both practice and theory from professionals who have been in your shoes and who fill the roles you are striving toward today. Depending on your course of study, you may find yourself taking some of the following courses: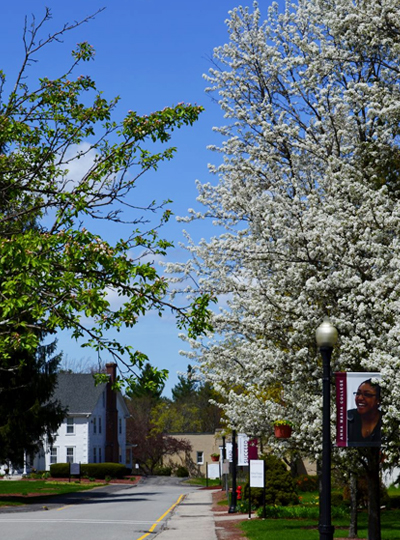 Steady Growth in a Variety of Sectors
The online degrees offered by Anna Maria College provide credentials that take graduates in leadership roles in their areas. Career prospects are strong over the next decade for graduates with a BS in Fire Science and those with a Master of Public Administration. For instance, the U.S. Bureau of Labor Statistics forecasts employment growth from 2020–2030 to be at 6% for emergency management directors,2 and 11% for both urban/regional planners3 and fire inspectors.4
Chief development officer
Emergency services director
Emergency management specialist
Public works director
Fire chief
Police chief
City planner/manager
Nonprofit management
Fire Chief
Fire Captain
Fire Marshal
Fire Prevention Educator
Fire Officer
Fire Service Trainer
Fire/Arson Investigator
Insurance Investigator
Sources and Disclaimer
"Education Pays," U.S. Bureau of Labor Statistics. Retrieved on November 1, 2021, from https://www.bls.gov/emp/chart-unemployment-earnings-education.htm.
"Occupational Outlook Handbook," U.S. Bureau of Labor Statistics. Retrieved on November 1, 2021, from https://www.bls.gov/ooh/management/emergency-management-directors.htm.
"Occupational Outlook Handbook," U.S. Bureau of Labor Statistics. Retrieved on November 1, 2021, from https://www.bls.gov/ooh/protective-service/fire-inspectors-and-investigators.htm.
"Occupational Outlook Handbook," U.S. Bureau of Labor Statistics. Retrieved on November 1, 2021, from https://www.bls.gov/ooh/life-physical-and-social-science/urban-and-regional-planners.htm.
Anna Maria College was approved by the Commonwealth of Massachusetts to participate in SARA, and became a SARA institution in 2021. At this time, only California is not a member state. If you reside in California and are interested in taking an online class at Anna Maria College, please fill out the request form to get in contact with a program manager.